Two wonderful shows are closing this Sunday, and there are some great deals to see them. If you are going to be around DC for the weekend, and you're looking for something to do (besides on Thursday, of course) I've got two great tips for you.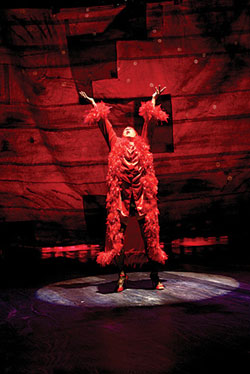 Performance
:
Angels in America
Theater
:
Forum Theatre
, now at Round House,
8641 Colesville Rd, Silver Spring, MD 20910
(next to the AFI movie theater)
Metro stop
s: Red Line, Silver spring
Genre
: Political and social dram-mentary
Cost
: $25, $15 for under 30.
Dates
: Through Nov 22
Rating:
4.5 out of 5 Starving Artists
I already wrote about Part 1: Millennium Approaches. All I can say is that part two was even better. Even the parts of the first half that annoyed me are less noticeable in the second part. I discussed it with Lady AWsome and our friends Z and M and we've decided you don't need to see the first part in order to see the second. If you can find a friend to give you a 5 minute explanation of Millennium Approaches (or you can read this), you should be fine. If you can only see one part, make sure it's the second. It's a bit on the long side, but definitely worth seeing.

Performance: Full Circle

Theater: Woolly Mammoth Theater, 641 D St, NW
Metro: Gallery Place-green/red or Archives/Navy Memorial-Green. Directions here.
Genre: Political satire, or so says nytimes
Cost: For the final week of the show, all remaining tickets are $15 when you order online and use the promo code 710. How cool is that.
Dates: Through Nov 29
Rating: 4.5 out of 5 Starving Artists

Last week was the 20th anniversary of the fall of the Berlin Wall. I hate to date myself like this (thought "20Something" is kinda a giveaway anyway) but that means I was 4 years old when the wall fell. So needless to say, the time period isn't etched into my memory like it is for people who are a bit older. I wasn't an avid consumer of news on world affairs when I was 4. Surprised?

But none of this makes Full Circle, the play currently being produced by at Woolly Mammoth Theater Company any less accessible. The play takes place on the eve of the fall of the wall, and mentions a number of historical figures and events. I have to say that a little history about some of these might have been helpful, but it certainly wasn't a breaking point (see below for a Wikipedia reading list)

But what makes this play truly interesting and unique has nothing to do with the subject matter. The most intriguing part of the play is the staging. The production is part of a movement of site specific works called Environmental Theater. The action takes place all over the building, and the audience literally follows the actors as they move from scene to scene and room to room. It's definitely one of the most thought provoking productions I've seen in a long time. If you're in the mood for something completely different, this is the play to see (just wear comfy shoes).

Wikipedia reading list:
Berlin wall
Erich Honecker
Environmental Theater
Heiner Müller
Berliner Ensemble