Restaurant
:
Baldacchino

Gypsy Tent Bar
Address
:
607 New York Ave, NW
Metro
: Mt. Vernon Sq (green/yellow) or Gallery Place/Chinatown (red/green)
Genre
:
Fringy
Cost
: $5-10
Through:
July 26
Rating
: 5/5 "Starving Artists"
I wanted to let you now about some yummy, cheap eats that support a great cause. Those smart folks of the Fringe Festival staff have set up a bar and restaurant at 607 New York Ave., NW which they call the
Baldacchino

Gypsy Tent Bar
(named after the
Italian
restaurant
that used
to live on that site).
We've eaten there twice and the food is remarkably good. I recommend the Ginger-
Teriyaki
Turkey Burgers, which is 6 bucks. You can't beat that. They also have a fantastic selection of local and regional beers that are equally
reasonably
priced. Oh, and they have happy hour specials Wed-Fri from 5-6:30. And, the best part is that the proceeds go to sport Fringe and Fringe Artists. Now how can you say no to that?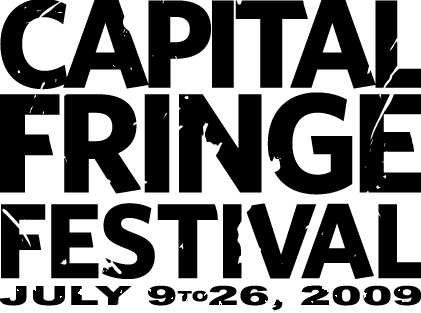 So, if you're between fringe shows (as I will be a lot in the next few days), or if you live in the neighborhood (Lady
AWesome
and I just moved 5 blocks from here), or if you are just looking for a fun, bohemian place to hang in the Mt. Vernon and Gallery Place area, then you have to check out
Baldacchino's
Gypsy Tent Bar. And if you liked it (or even if you didn't) be sure to tell us about it in comments.
Fringe on!