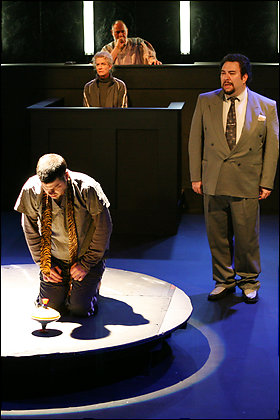 Performance:
The Last Days of Judas Iscariot
Theater:
H St Playhouse
– 1365 H. St, NE (It's a decent walk from Union Station (red line) or you can take the X2 bus from Gallery Place right to their front door. Check
WMATA
for suggestions.)
Genre:
Drama, in the best way
Cost:
$18 student ticketsDates: Through December 21
Site:
here
Rating:
The spring staging earned 5 "Starving Artists" (out of 5)
If you see one show this year, you should see this one.
This past April, Lady AWesome and I saw
Forum Theater's
production of
The Last Days of Judas Iscariot
at the
H St. Playhouse
. We were both floored by the production. It is a really exceptionally written play that imagines Judas on trial in a modern courtroom for selling out Jesus. It deals creatively, and powerfully, with the ideas of good and evil, sin and sacrifice. Even as a non-Christian, I really connected to the show. Well, it's coming back to the H St. Playhouse and you NEED to go see it before it leaves. I really agree the CityPaper's
City Desk
, this was one of the best plays I have seen in this city and it was a DC Theater Scene's audience choice award winner for
best play of the year
.
And, I have some great news. Tickets aren't too expensive, but if you want to see the show for free, you can. I got an e-mail a few days ago saying that Forum is looking for ushers. As I have said before, I think that Ushering is a great way to see theater for free. If you're interested, e-mail
Rose
.
I hope you will go see this show. It shouldn't be missed. We may not go again, so share your thoughts below after you go see it. Yay comments!