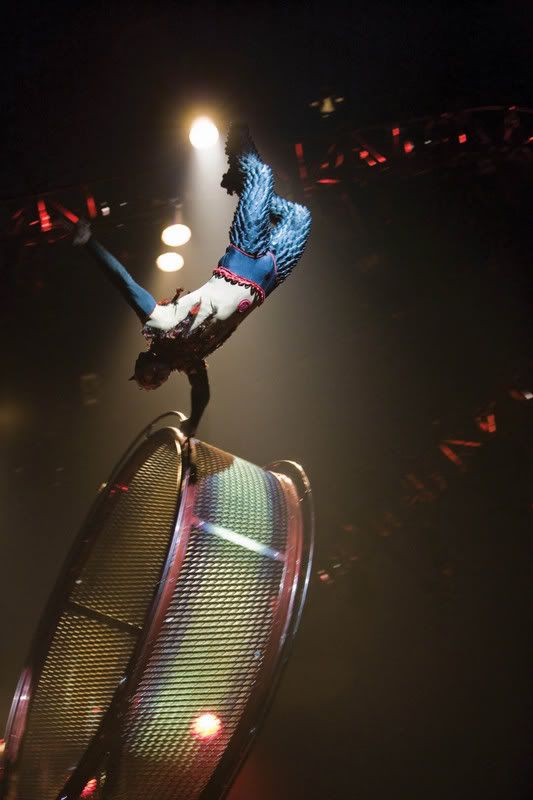 Performance
: Cirque du Soleil's Kooza
Theater
: Plateau at National Harbor (not metro accessible)
Genre
: Circus Arts
Cost
: Student tickets start at $49.50
Dates
: Through December 14Site:
here
Rating
: 5 "Starving Artists" (out of 5)
Wow. That's really all I have to say about that. Just… wow. We just got back from Cirque du Soleil's
Kooza
and once again they blew my mind. I know I risk sounding pretentious when I say this, but it was really one of the best Cirque shows I have seen (of the four I have seen live or the few others I have seen on
Bravo
.) Really, as
Stads
said in comments, if you have the money, cirque is worth the splurge. Student tickets can be as low as 49.50 (and there are no bad seats).
It is showing about 20 minutes from DC in the new, surreally artificial "
National Harbor
" convention center complex. It's a bit of a trek, but definitely doable. This show had a plot, but unlike Corteo (the last cirque show I saw) it really adds to the experience while not distracting from it. Each act is better than the last but I have to agree with my friends who said that the "
wheel of death
" was the coolest. That said, the
juggler
was by far the best I have ever seen, and I have seen
a lot
of jugglers. But really, cirque is not about the individual acts, it's about eliciting a sense of wonder and transporting you to a surreal world where the impossible is possible. They seek to put the "arts" back into
circus arts
.
Kooza is playing in DC through December 14th and it easily earns 5 out of 5 on my "Starving Artists" rating system.
But I also promised a less expensive alternative and I shall deliver. New York's Metropolitan Opera recently produced La Damnation de Faust, which was directed by
Robert Lepage,
a veteran of Cirque. Apparently he has incorporated a lot of cirque-like elements into Faust and the production is supposed to be excellent. It is showing in an HD broadcast via Fathom Events at movie theaters in the DC area today only (12/3). The
closest
to downtown is in Friendship Heights and it is showing at 7:00. There are also some other productions in
MD and VA
. The ticket cost is $18, which is definitely cheaper than cirque. If you like opera at all, I would definitely recommend you see this. I'd be interested in hearing your thoughts on it.
That's all for now. Comment below if you end up seeing Faust and tell us if you liked it.
Performance
: the Met presents La Damnation de Faust
Theater
: Local movie theaters, including the AMC Mazza Gallerie (5300 Wisconsin Ave. NW)
Genre
: Opera and Circus Arts
Cost
: $18
Dates
: Today only (12/3) at 7:00
Site
:
here